#20113/40 (with 1J0-973-724 connector)
Please contact your distributor for price & availability.
Failed or burned up VW/Audi ignition coils are most commonly caused by poor electrical connections, wire harness breaks or fouled spark plugs.
Up until now, there has not been a cost effective kit available to aid with VW/AUDI coil harness/connector repairs. Bremi/STI has developed a Kit (#20113/40) that contains the parts and tool needed to replace the self locking connector housing for those coils that use the 1J0-973-724 connector and to make simple harness lead repairs for all the popular VW/Audi Ignition Coils.
Each kit contains:
4 – High temperature leads and terminals,  pre-assembled for most popular applications, in an OE type 1J0-973-724 connector housing.
4 – Heat Shrink Butt Connectors
1 – Terminal Extractor Tool
You should replace all the connectors every time you replace a coil, especially if you had more than one coil failure.
A loose connection (caused by engine vibration, a cracked connector housing etc.) can cause a voltage spike which may not only destroy or burn up the coil it is attached to but also a neighboring coil because the harness wires are bridged together. The OE connectors to the coils are not designed to be repeatedly unplugged and re-plugged. The locking features of the connector housing are critical to maintain positive terminal contact. That is why OE recommends replacing the connectors if there is a chance of a loose connection. (see picture below)
Broken insulation on the wire harness (see picture below) can cause a voltage spike (misfire) that can destroy or burn up the coils. Harness related connectivity problems are very common and are usually the cause of coil problems when one has experienced more than one coil failure. Inspect the harness wires carefully for any cracks in the insulation and have them immediately repaired or replaced by an authorized VW repair shop.
You may utilize Kit (#20113/40) to make simple harness lead repairs.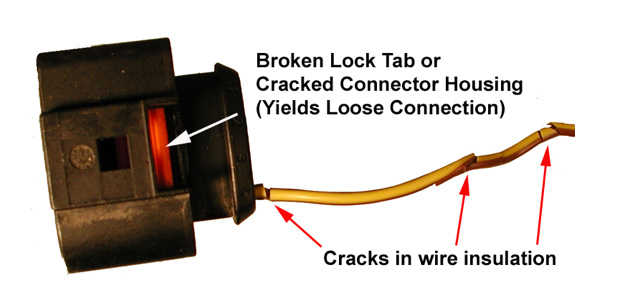 PLEASE NOTE: NO PART OF THIS KIT SHOULD BE ATTEMPTED WITHOUT FIRST HAVING THE FOLLOWING:
A: BASIC KNOWLEDGE OF THE USE OF MECHANICAL HAND TOOLS
B: THE FACTORY REPAIR MANUAL AND UNDERSTANDING WHAT YOU READ. REFER TO (https://erwin.audi.com) (https://erwin.vw.com)
C: A SAFETY UNDERSTANDING.
D: IF AT ANYTIME YOU FEEL YOU ARE OVER YOUR HEAD, YOU SHOULD REFER TO A VW/AUDI AUTHORIZED REPAIR FACILITY.