Spark Plug Ignition Wire Sets
German Engineered
Proudly Assembled in the
USA

Karlyn/STI has engineered a wire set line that is second to none in every aspect of performance, protection and coverage.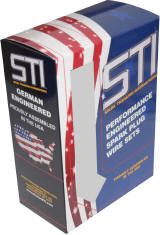 The purpose of good wire insulation is to protect the cable from voltage leaks. The single most important factor for rating insulation performance is the type of material used and not the diameter of the wire. Silicone, while resisting temperatures up to 600 degrees (F) will give you the greatest protection. Our Silicone-over-Silicone cable includes two layers of high grade Silicone for superior voltage protection. Common practice among most wire set manufacturers is to provide silicone for the outer jacket only. Some wire manufacturers even try to advertise a bigger diameter wire (i.e. 9mm) trying to make you think that Bigger is Better while the main part of their insulation is made up of an inferior material which does not provide protection against voltage leaks.  If it doesn't say Silicone-over-Silicone then it isn't. Don't be fooled!​
Our European wire sets utilize OE parts from Bremi Fahrzeug- Elektrik of Germany. BREMI is an original equipment supplier of Ignition parts for Audi, Bentley, BMW, Mercedes & Volkswagen. Most of our European wire sets are assembled in Southfields NY USA, with the finest copper core silicone wire which greatly exceeds O.E. and competitor specifications. This double extruded Silicone-over-Silicone wire contains 19 strands of tinned copper core which provides "super conductivity" with superior corrosion resistance.
Our wire sets always include O.E. Type Connectors, Looms, Sensors, Harness Clips & Heat/Abrasion Shields whenever needed. This results in a state-of-the-art wire set which will excite the installer and the automotive enthusiast.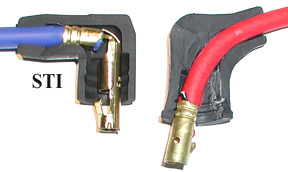 STI uses proper
Distributor Angle Terminals
Import & Domestic Applications
This line features German Engineered Spark Plug Connectors, specially designed durable boots, corrosion resistant and oversized clip-lock terminals which allow for positive electrical connection every time you install or reinstall them. Our 8.0mm Silicone-over-Silicone cable includes two layers of Silicone for superior voltage protection.
STI uses proper distributor angle Terminals
STI's 90 Degree distributor boots are equipped with 90 degree terminals. This allows for a positive feel of an electrical connection every time you install or reinstall them. Other Brands provide a 90 degree distributor boot, but NOT a 90 degree terminal. (See the picture with the Red Wire) When you install their boot on a distributor cap it has a springy feel because you are actually pushing on the wire inside the boot.
3 Piece Spark Plug Connector Applications
For applications requiring 3 Piece Spark Plug Connectors, our wire sets come equipped with German Engineered plug connectors with an improved design over O.E. Our Plug Connectors come with the Silicone Tip mounted permanently to the connector without glue! The original OE design, is glued. Upon removing glued Spark Plug Connectors, the Silicone Tips can come off & get stuck deep in the well making it incredibly difficult to remove. Our permanently mounted Spark Plug Tips also have a unique design that allows for a tight plug seal, even on Spark Plugs with different diameters. Our Terminals are permanently locked inside the spark plug connector to insure a perfect fit every time you install or re-install them.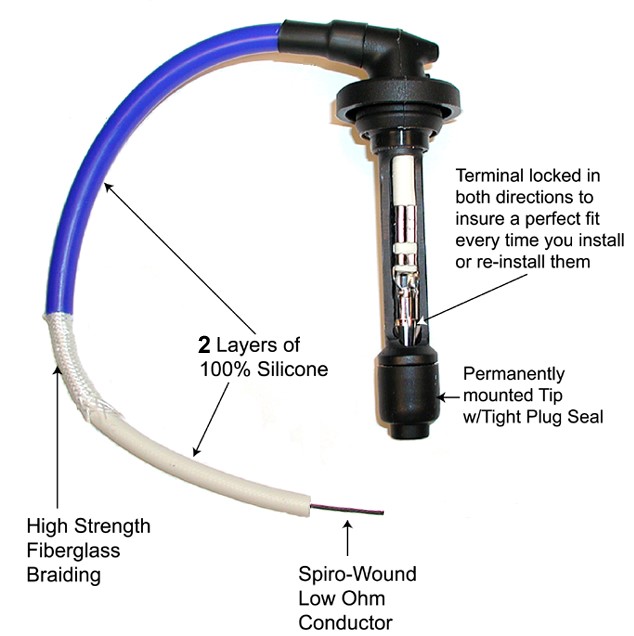 Firepower: STI wire sets use stainless steel magnetic conductive windings for applications which can handle extra fire power to reach the spark plugs. This results in improved gas mileage and superior engine performance, while it prevents radio frequency noise from interfering with radios, cellular telephones, TV's, computers and other onboard electronic equipment. Please note that Spiro Core "Mag" wire is not recommended for European Applications.