In 1970 Karlyn Industries produced the First U.S. made VW Ball Joints and Tie Rod Ends in Mount Vernon, N.Y.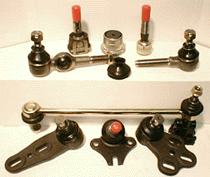 For over 50 years the Name "Karlyn Industries" has been synonymous with supplying the aftermarket with the highest quality Steering and Suspension parts.
All of Karlyn's Steering and Suspension parts are controlled, technically refined and 100% inspected by our in-house engineering staff. We utilize German OEM experience, American know-how & Innovation as well as sourcing the most cost effective manufacturing processes worldwide.
The result is a product line which places the emphasis on the quality of the part in a most efficient way. We then pass these significant savings onto our customers to provide the best quality at an exceptional price.